Tree Planting DAy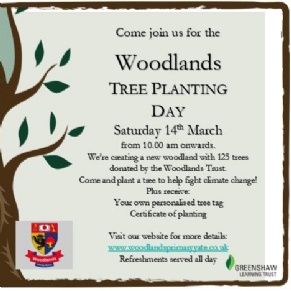 You are invited to join us to plant a tree!
The school successfully applied for a Wild Harvest pack of 125 mixed nut and fruit trees
from the Trust after hearing about the scheme from researching ways to help Neutralise Carbon in atmosphere.
We will be planting 125 free trees from the Woodland Trust on 14th March 2020 from 10.00am – 3.00pm in order to reverse the effects of climate change, starting in our own field!
An area the size of two tennis courts has been marked out and the whole community has been invited to come and 'do their bit'. Mums, dads, aunts, uncles, grannies and grandads will all be coming and we'd love it if you could join us, even for a quick visit!
When you plant a tree, you'll be given a personalised tag to place on your tree and a certificate of planting for you to keep.
Refreshments will be served all day so why not come along and help 'do your bit' by planting a tree for the future!
In a few years time, we will be able to harvest some of the fruits and nuts at a 'community harvest' where we will be able to make crab apple jelly and hazelnut coffee and sloe juice and elder flower cordial....and much more!
See you on 14th March 2020, from 10 am onwards.