Reading adventures at Woodlands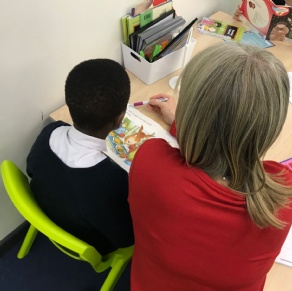 Children at Woodlands have embarked on an exciting new venture to continue reading books at home
Children at Woodlands Primary School have embarked on an exciting new venture in order to continue reading books at home, without actually reading 'books' at home.
As everyone is aware, reading is a fundamental aspect of learning, right from EYFS through to Year 6, and at Woodlands they strongly recognise this. Reading is a facilitator for every single area of the curriculum. When the school returned in September, it became apparent that the usual reading system of borrowing books to take home to read would no longer be manageable or feasible and staff recognised that action needed to be taken.
The school already has children reading non-stop throughout the whole school day, from when guided reading sessions begin at 9.00am, through English, maths, science and PE lessons. However, this was not enough. How could staff measure progress? How could children enjoy different genres of text? How could they show deep comprehension and understanding?
So… the school now has its very own personal and individually-levelled library of e-books thanks to Pearson's 'Bug Club'.
Bug Club is a powerful whole school reading programme that is proven to raise attainment in reading and spelling – and loved by over a million children in the UK. It brilliantly combines stunning books and an incredible online reading world, filled to the brim with kid-favourite characters, to hook children into a lifelong love of books and develop confident young readers. – John Dabell in an independent review on Teach Primary.