NSPCC Speak out Stay safe
NSPCC Speak out Stay safe is a safeguarding programme for children aged 5- to 11-years-old.
The programme helps children understand:
abuse in all its forms and how to recognise signs of abuse
that abuse is never a child's fault and that they have the right to be safe
where to get help and the sources of help available to them, including our Childline service.
The Speak out Stay safe programme will be delivered as part of our SRE (Jigsaw) teaching in Term 6 each year.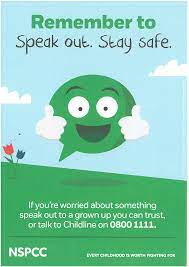 Additional Numbers
NSPCC Sexual Abuse in Education - 0800 136 663
NSPCC Concerns line- 0808 800 5000
Or email help@NSPCC.org.uk